Amenities
Local Amenities
High Speed Internet
Library
Town Water and Sewer System
4-H
natural Gas Heating
Fire Department
Curling and Skating Club
First Responders
Community Centre
Briercrest Rural Involvement Club
District Museum
Knox Presbyterian Church
What's available in our great community
Briercrest Curling and Skating Rink
Briercrest has a two sheets of artificial ice for Winter Curling. A curling league is set up but newcomers are always welcome. The "rink" also has a skating rink for family skating and for hockey. Washrooms and changing facilities are available. The rink also houses a concession that serves hamburgers, fries, onion rings, chicken strips, pop and juice, candies, chips, coffee, hot chocolate and mocha.
During the winter months community members form groups of six or so, and each group makes a homemade dinner with dessert for a community Friday Night Supper. These are well attended by villagers and area farmers, ranchers, and business people, where time is taken to socialize or have a family skate during the winter. Call: 1-306-799-2122
Briercrest Community Centre
The well appointed community centre is located on the east side of Main Street and houses our library, the BRIC meeting area, the Masonic Lodge meeting area, and the morning coffee group. The facilities also have a comfortable area for cards and other social occasions; a large kitchen area, and a hall with seating for approximately 250.
The Centre holds weddings, family reunions, card tournaments, dance classes, the Production Club cabarets, Beer and Wing Nights, and is available for virtually any function. For information on renting any part of the premises, please contact Krista Nash at 1-306-799-2001.
For up to date happenings at The Centre please visit The Centre page.
Briercrest Library
Hours of Operation:
Tuesday 1:00 pm to 4:15 pm
Wednesday 9:30 am to 2:00 pm
Thursday 6:00 pm to 9:00 pm
As part of the Palliser Regional Library System, Our librarian can order any book within the system and have it delivered to Briercrest. We offer many activities to the kids and during the summer hold theme movie nights on Monday Evenings which we all enjoy. Check out the Library page.
Briercrest & District Fire Department
The Briercrest & District Fire Department is up and running. The Fire Chief is David Duncan, Secretary/Treasurer is John Holizki They have their Board meetings once a month excluding May, June and September and their training meeting are the last Thursday of every month. They have also purchased 5 new firefighting suits; they sent 4 members to Humbolt, Sask. for the Saskatchewan Volunteer Fire Fighters Association School, and they took part in the 1000 class which is a basic understanding of firefighting in which they also had to write an exam and be able to put their suits on in 1 minute to pass. To contact the fire department call 306-799-2112, and they are in the process of being accessible through 911.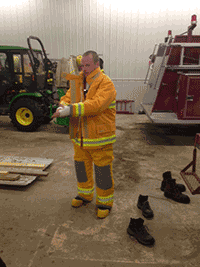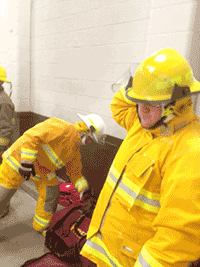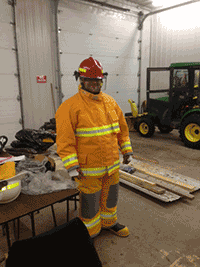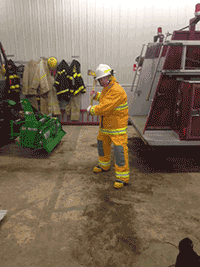 Area Amenities
Most of these amenities are less than a half hour drive from Briercrest
Dunnet Regional Park – Fishing, boating, camping – 20 minutes
Long Creek Golf and Country Club – golfing, dinner – 23 minutes
Claybank Brick Plant National Historic site – www.claybank.sasktelwebsite.net Tours, demonstrations, saskatoonberry pie, watch for Heritage Day the 3rd Sunday in June – 18 minutes
Sukanen Ship Pioneer Village and Museum – www.sukanenmuseum.ca - 20 minutes
Rodeos at Moose Jaw, Swift Current, Hallonquist, Herbert, Wood Mountain, and Regina
Moose Jaw – www.moosejaw.ca Visit the tunnels where Al Capone is said to have carried on his activities during prohibition – 25 minutes
Regina - www.regina.ca See the Parliament Buildings, Government House, Mosaic Stadium (Home of the Roughriders) – 45 minutes
Highway 339 – this highway leading to Briercrest features many of the prairies' best sites. From fields of wheat, canola, flax, mustard, and lentils, to bison and cattle ranches, to wildlife (please watch out for our Mule Deer and Antelope on the road and in the fields) and to modern successful elevators. A veritable photographer's delight.
Tourism in Saskatchewan
Briercrest is proud to support Tourism in Saskatchewan. For further information click on the following websites:
Tourism Saskatchewan – www.sasktourism.com
S. W. Saskatchewan Tourism - www.southwest.sask.info
Economic Development in Saskatchewan
Briercrest is a Community Member of the South Central Enterprise Region (SCER), one of 13 regions set up by the government through Enterprise Saskatchewan to foster and develop the Economic potential of the Region as a whole. Briercrest resident Stewart Scott is a member of the Board of Directors for SCER.
For more information on SCER please check out http://www.southcentralenterprise.ca